Our parent portal is here to make life easier with juggling all that goes on here at HAA!
You can access your Dance Studio Pro account here to manage all your needs. Want to be more involved here at the dance studio? Check here for volunteer opportunities! Below you'll find helpful links, updates, and more!
How to Order Uniforms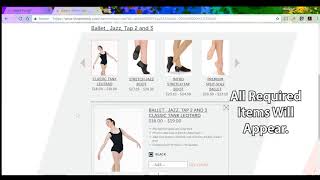 Future and Prospective Students
Sign up here to register your student for dance, vocal, or piano classes!

Already A Part of the HAA Team?
Login Into Your Dance Studio Account Here
Pay Your Monthly Bill And Register of Classes Her
Take the hassle out of monthly billing Sign up for Autopay to save 20%!
Dress To Impress! Get your Class Uniform today!
ATTENTION **Ballet Shoes should be ordered 2 1/2 to 3 sizes LARGER than a street shoe!
And Tap Shoes should be ordered AT LEAST 2 sizes LARGER than a street shoe!
PLEASE READ COSTUME MANAGER DETAILS
Private Lessons Available